This morning my brain = tired. Which is what happens when you stay out until 3AM every morning and wake up at 8AM that same morning. Generally speaking I like to go to bed when the hour is in the PM and wake up when it again reaches the PM. Skipping the AM altogether is quite suitable to me.
Now that I've sufficiently warned you that this post may be filled with typos and runon sentences and things that generally don't make sense (due of course to the lack of sleep mentioned above), we can move on to discussing Operation: Organize, Revitalize, and Design.
This is currently the quilting/computer room:
[yes, I do quilt on the floor]
I'm hoping to get it to the point where it looks something more like this: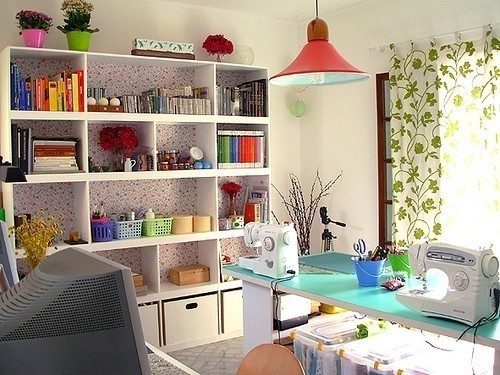 I like the organization of the above photo, but I will definitely be removing all touches and traces of all things remotely "girly" (minus the obvious quilting supplies).
I'd love to get some ideas/suggestions/recommendations from everyone about different techniques that have helped them organize, fun crafty ways to make the room "pop", and any other advice or suggestions that might help a girl decorate her sewing room with a modern, ungirly, and fun theme.
1.....2.....3... Go!