Isn't it pretty?!
Why yes it is. And you want to know whose table it is? Well, let me put your mind at ease - it's now ours.
Macy sells this lovely table with six chairs for $1573. When Andy and I started looking for tables about a year ago, I begged him to let me buy this table from Macy's at the Annual Sale for $1200. He disuaded me telling me that we should get a table that was more affordable and that we didn't need
this
particular table. I reluctantly agreed, albeit somewhat disappointed, knowing that we didn't have the money to buy it.
And then, yesterday, we came home with this table. Only we didn't pay $1573 or $1200 - we paid the whopping price of $350.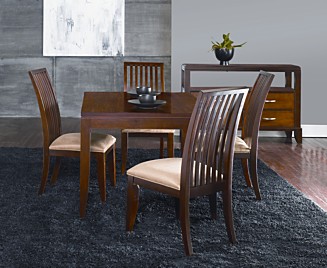 [FYI - Our table is a pretty cherry wood color]
You may be asking yourself, "How did Andy and Elisha find such a beautiful table for such an inexpensive price?"
Behold, I will reveal our secret:
Craigslist.com
We discovered this gem on craigslist for
ridiculously
cheap and decided that since Mandy and Ian will be moving out (sad...) and will be taking their beautiful table with them (also sad...), we would need a new table to put in our dining room. And voile - here it is.
We heart it. ♥