Vampires, dragons, mermaids, flying chraucans, gryphs, warries, wizards, and a handful of other make believe characters have been filling my brain these last few weeks. I've been devouring several fantasy/young adult books recently and been thrilled to escape for a bit into a world of make believe. With all the photo editing that has consumed these last few weeks, I've needed to curl up on my couch and disappear into a land of adventure and possibilities - a land where my mind can explore new worlds and believe anything is possible.
Here's the recent fantastical books that have captivated me:
1. Twilight, New Moon, Eclipse, & Breaking Dawn - By Stephanie Meyer
2. The Wren Series - by Sherwood Smith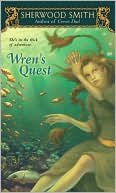 3. Dealing with Dragons Series - by Patricia Wrede
4. Seeing Redd - of the Looking Glass Wars series - by Frank Beddor
I'll admit that none of these series are very educational or intellectually stimulating. However, I can't deny that I lost myself completely in each set of books.
I'll be blogging about each of these series shortly.