"Wren stared at Tess in amazement. 'You're a what?'
'A Princess' Tess said again."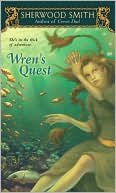 As I forewarned, the novels I've been reading recently are captivating in a childhood faerie tale sort of way. In the Wren series, an orphaned girl discovers she is princess and Wren is whisked along with her friend to the world of royalty. Peace and happiness can only last so long for the young ladies, and soon Tess is stolen away by a neighboring Kingdom that has held a grudge for more than a decade. As Wren and her mismatched companions, a prince in line to inherit nothing and a young magician destined to become the next mage to the king, set off on their unlikely quest to rescue Wren's best friend, they encounter helpful friends, wise magicians, highway robbers, and scary beasts. Despite, and and with the help of, their numerous encounters, they successfully manage to arrive at the fortress that holds the young princess, Tess. However, in the interim, Wren takes the form of a dog, the prince and the magician are imprisoned in the fortress, and an unexpected helper disguises herself as Wren. Together, they successfully free Tess from the walls of the evil adversary.
Their escape ignited the wrath of their adversary, which leaves one wondering when we will see his retribution and whether our young heroes and heroines will be ready for the fall out.
In the second book, Wren's Quest, our evil adversary is constantly on the mind, but this time around, the antagonist is unknown for much of the book. Wren decides to set out on a personal mission to find out who her family is. During her adventure, the royal Court at home is sabotaged by an insider and she is sent a cryptic message not to return until she is advised that it is safe for her to do so. However, throughout her quest, she is being pursued by an unknown army and can only speculate the reason for the chase. However, the intensity of the situation forces her to discover her magical potential and it is fascinating as she learns more about herself and her abilities. In the end, she discovers, through her quest, more about herself and her family.
I've yet to read the third and final book. I'm still waiting on Amazon.... So, I have to wait to discover what happens to Wren in Wren's War. The title continues to conjure images of self discovery, an evil adversary returning, and a finale worth reading... I'll keep you updated!
(BTW, much thanks to Matt for recommending these and several other enjoyable novels!)